It's been fun, guys.
Digging our heads into the sand and enjoying our social media. Happily sharing gifs, memes, videos, photos with one another, connecting with friends (or frenemies) from high school and posting political opinions that will change exactly no one's mind.
On some level, we probably all knew that Facebook was tracking our every "like" and "share" online. And yet, the reality of that fact has come crashing down on us over the past few weeks as privacy scandals at Facebook are making headlines.
Understandably, there's a #DeleteFacebook campaign ongoing. And yet, I haven't deleted my Facebook account, with no plans to do so. What about you?
While I'm not planning to leave Facebook, I have identified recently with a scene from NBC's "Parks and Recreation," where privacy-conscious Ron Swanson is alerted that web site cookies exist and that Google Maps has a photo of his house: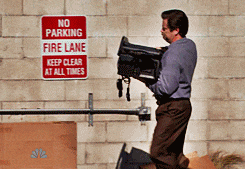 (He's throwing his computer in the dumpster, FYI.)
But that's not a solution. Maybe for some it is, but not for me and probably many others working in today's world, who need to utilize and understand technology and social connection.
However, we can – and should – all do a better job of understanding just what we're agreeing to when downloading new apps and sharing on social media. Instead of an "ignorance is bliss" outlook, take a thorough look through your privacy settings and advertising settings and be very specific about what information you want to share with each platform or app.
If you are interested in downloading the full archive of what data Facebook contains about you, this article from Inc. includes an easy five-step process:
How to Get Your Data
In typical Facebook fashion, it's easy to get this data, but only if you know exactly where to look. That's what I'm here for.
Click this link. You're looking for facebook.com/settings. If for some strange reason that doesn't work, on desktop, you want to click the little upside-down triangle in the upper right-hand corner, then drop down and click "Settings."
Click where it says "Download Archive." You will likely have to reenter your password. Facebook will need about 10 or 15 minutes to compile your data and will send you a link via email to get your information.
Check your email spam folder; the message Facebook sent me wasn't readily visible in my inbox. The subject should read "Your Facebook download is ready." Click the link in your email and you'll be sent back to Facebook again–and probably have to enter your password once more. (This is a good thing; there's a lot of personal information in the files they're sending you.)
Click the "Download Archive" button on this second screen, and you'll download a .zip file that should be called: "facebook-YOURUSERNAME.zip." Extract the files by clicking on the .zip file in most cases, and you'll wind up with a series of folders. There should be a file called simply "index.html."
Click on that, and the archive should open in your browser.
I'm going to download my Facebook data – mainly to see what it contains and how accurate some of it is. I joined Facebook when I was a sophomore in college, back in 2005. So, I'll have 13 years of data to comb through and I'm assuming it's going to be as embarrassing as when I read back through my diary from junior high.